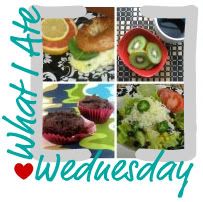 It's Wednesday already??
Wow this week is going fast!
Sunday was Father's Day and, even though we don't have any children, I couldn't ask for a better pet papa than J for my babies!
The pups and kitties gave their "dad" a card and gift card to "
Roosters
".
We stopped there over the weekend after watching "Super 8" (great movie BTW!)
They had an awesome drink called "Country Tea" which was:
Firefly sweet tea, sour, and pink lemonade and
of course
some type of alcohol. (I forget what, so sorry!).
OHHH EMMM GEEEE! This is my new favorite drink! I actually had two, which is really rare for me. I usually limited myself to one fruity drink, but I just couldn't help myself this time!
On to the eats!
Barbecue Chicken Pizza
Wing on top!
Wings of course!
We welcomed summer yesterday with fish tacos and fresh
Mango Salsa
!
And since it doesn't feel quite right to end a post without some type of dog pic (I am that crazy dog mama!) , here is a pic of Sammy and Daisy dreaming about what they want to eat...
They are looking in the back room of the basement where the cat food and the *cough,cough* litter box is. (Yes,my dogs are gross and enjoy kitty crispies) Don't worry, there is a gate up and they can't get to it!
That's it for now! Have a great day!!
Don't forget to check out my Mango Salsa recipe :-)